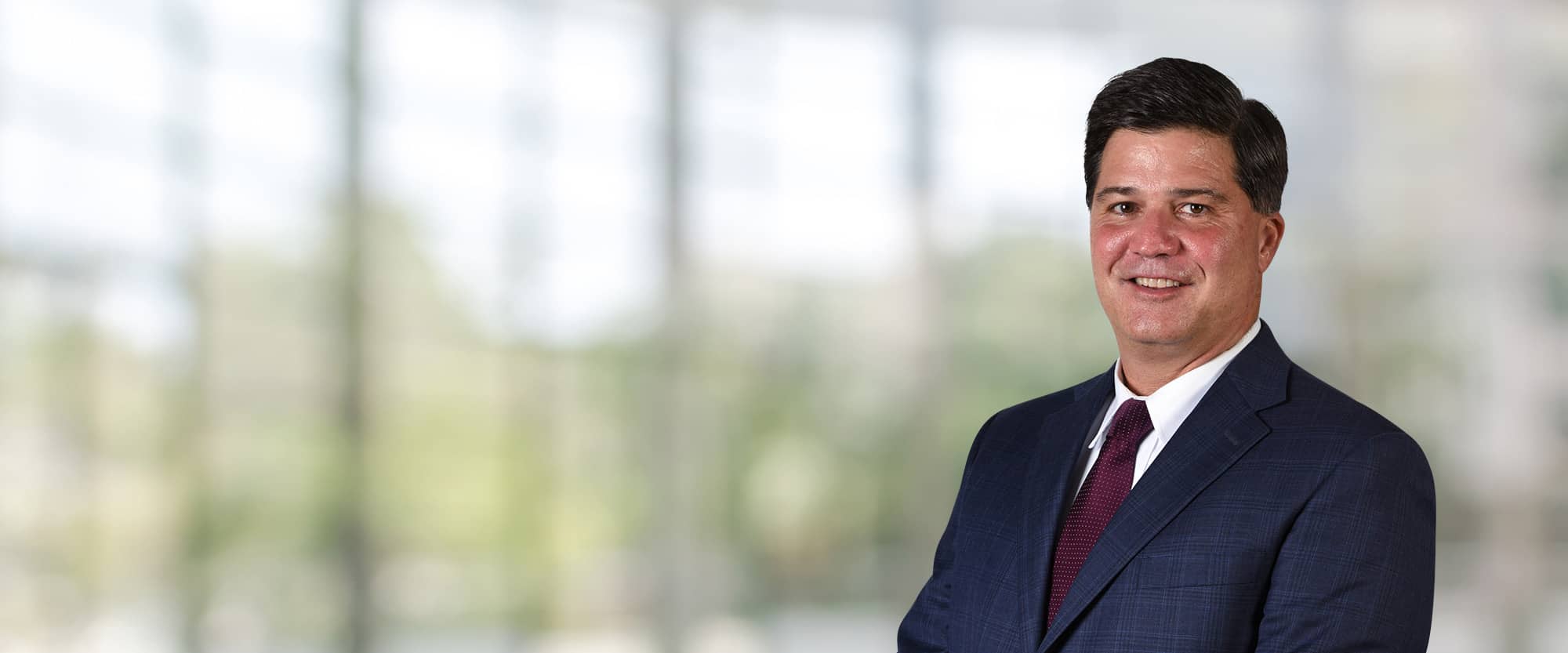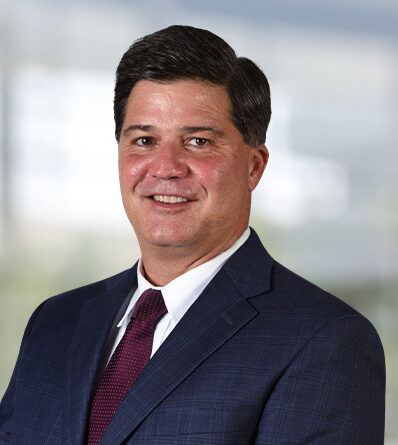 Stephen C. Hall
Partner
How do you achieve success for clients?
One of the great satisfactions about practicing law is forming the right plan with our clients, then executing consistently, or adapting where needed, across all the incremental steps that lead to a positive result.
Stephen Hall is a registered patent attorney, and he serves as leader of the Firm's Intellectual Property Protection & Litigation Service Team.  His practice addresses both patent filing/prosecution before the United States Patent and Trademark Office as well as patent litigation in the federal courts.  A former research chemist, Steve has obtained patents for clients in a broad range of technical fields, including:  alternative energy, catalysts, chemical detection, electrical transmission line safety, electro-mechanical devices, ergonomic products, explosion-proof engines and pumps, filter testing, food safety and testing, genetic expression, home security, machine diagnostics, medical devices, missile countermeasures, plant chemistry, sample collection, sample pre-concentration, sporting goods, styrene recycling and water quality testing and treatment.
Among various facets of patent litigation, Steve handles pre-filing investigation into competitors' infringement, patent validity disputes, claim construction and dispositive motions. Steve frequently advises clients about infringement issues, including product clearance, freedom to operate and licensing.  As a registered patent attorney before the USPTO, a significant part of Steve's practice involves obtaining patents for clients, and this experience enhances his ability to provide effective advice regarding infringement issues. According to clients in Chambers USA, "He's an excellent communicator and a valued strategic partner." They also say "He is straightforward, detail-orientated and understands the businesses he works with."
Steve has spoken at seminars for a variety of audiences.  A representative listing of his talks is shown under "Perspectives."  He is primarily a visual thinker and communicator who sees his cases as stories that must be developed and told well.
Show More
REPRESENTATIVE MATTERS
Obtained multiple patents for our client, a company that makes equipment to amplify motion in machines with moving parts, allowing problems at the sub-pixel level to be detected quickly and addressed.
Obtained multiple patents for our client, a large metropolitan research University, in a broad range of fields that includes bioengineering, chemical, and engineering.
Obtained foreign patents for our client, a University with strong multidisciplinary research programs, covering water quality testing and analyte detection.
Obtained sporting goods patents for various clients including baseball equipment, bowling balls, fitness exercise, and motor sports.
Represented our client, the plaintiff, in a patent infringement lawsuit involving electronic safes and related devices with cash management features.
Defended our client in a patent infringement lawsuit related to drop safes and mechanical locking safes.
Defended our client in a patent infringement lawsuit involving computer-to-plate printing methods.
Represented our client, a developer of proprietary formulations in the animal feed industry, in the negotiation of several license agreements with large animal feed companies.
Represented our client, the Estate of a well-known inventor and television personality, in a patent licensing program.
Represented the petitioner, a commercial truck seller, before the state Supreme Court, successfully briefing and arguing that arbitration provisions in commercial contracts are valid and enforceable under the Constitution's commerce clause.
EDUCATION
J.D., University of Cincinnati College of Law, 1992
B.A. (Chemistry), magna cum laude, University of Louisville, 1988
ADMISSIONS
Kentucky
United States Patent & Trademark Office
United States Court of Appeals, Federal Circuit
United States Court of Appeals, Sixth Circuit
United States District Court, Eastern and Western Districts of Kentucky
HONORS
Chambers and Partners USA 2012 – present in the area of Intellectual Property

Woodward/White's Best Lawyers in America® Biotechnology Law, 2007-present, and Trade Secrets Law, 2017-present
Highest Professional AV Rating by Martindale-Hubbell Law Directory
Kentucky Super Lawyers® 2013 – present in the area of Intellectual Property
Recognized as one of the "Top Lawyers" in the area of Patent Law by Louisville Magazine, March 2014
PUBLICATIONS
Quoted in "Starting a business? These Louisville lawyers, founder offer IP advice," Louisville Business First (November 2021)
"Assembling the Pieces: Practical Lessons from Recent IP Posts," Finding IP Value (May 2021)
"Probing Questions by Courts Foretold Ruling of Patent Invalidity," Finding IP Value (April 2021)
"DoorDash Patent Shows Some Patents Are Granted for Incremental Advances," Finding IP Value (April 2021)
"Patent Invalidated Due To "Impossibility" In The Claims," Finding IP Value (April 2021)
"Is Inter Partes Review Unconstitutional?," Finding IP Value (December 2017)
"The Impact of President Trump's IP-Related Appointments," Finding IP Value (January 2017)
Quoted in "Intellectual Property Law Has a Real-World Impact on Businesses," Louisville Business First (March 2016).
Quoted in "Many Options to Protect Intellectual Property," The Lane Report (February 2016).
"Changes in U.S. Patent System Bring a Fundamental Shift," (January 2013).
"An Overview of a Recent Court Challenge to the Protection of Biomarkers as Intellectual Property," Hall SC, et al, Clin Chim Acta (2011), doi:10.1016/j.cca.2011.01.024.
"Law and Medicine: Federal Appeals Court rules that Biomarker Tests are patent eligible, expect to see tests promoted, commercialized and integrated into healthcare," (March 2010).
"Risk Management Applications from TGN 1412 Clinical Trial," Biotech Briefing of the American Bar Association / Section of Science and Technology, Vol. 2, No. 4, p. 3 (July 2006).
"The Physician's Duty and Role in Communicating with Family Members' Regarding Results of Patients' Genetic Testing," April 2005.
"Kentucky Supreme Court Adopts Separability Doctrine For Agreements to Arbitrate," American Bar Association Section of Business Law Newsletter, Vol. 12, Issue 2, Spring 2004.
"Court Prohibits Experts From Testifying that Cell Phones Can Cause Brain Cancer,"  February 2003.
"The Impact of Genetic Medicine on Civil Litigation," January 2003.
"Defending the Product Liability Action," April 2002.
"The Defendant's Right to Compel Genetic Testing," For the Defense, October 2000.
Mr. Hall is also a regular contributor to Wyatt's IP blog "Finding IP Value."
PRESENTATIONS
"Do I contradict myself? Assignor Estoppel Will Not Bar Invalidity Defense, Unless the Defense Conflicts with Assignor's Representation," Indiana Continuing Education Forum, Midwest Intellectual Property Summit, December 2, 2021.
"Envisioning Success:  Visual Thinking Strategies for Avoiding Intellectual Property Problems," Wyatt In-House Counsel Institute, June 22, 2016.
"Using the AIA's First to File Rule and the Written Description Requirement to Invalidate Patents," Defense Research Institute's Intellectual Property Seminar, May 6, 2016.
"Clearing the Hurdles: Patent Examination at the USPTO," Nucleus LaunchIt Program, October 30, 2014.
"The Changing Landscape of Patent Litigation: Fee Awards and Exceptional Case Status," June 17, 2014.
"Fee Awards in Exceptional Cases," June 10, 2014.
"Building Fences: Creating the Right IP to Protect Your Most Important Ideas," LaunchIt Series, November 4, 2013.
"Protecting Your Ideas: The Importance of Breadth, Clarity, and Strategy," XLerateHealth, October 9, 2013.
"Protecting Your Ideas: What Every Inventor Should Know About 'First-to-File' and The America Invents Act," March 19, 2013.
"The America Invents Act: Are You and Your Business Prepared?" Tennessee Bar Association, Memphis, February 19, 2013.
"Protecting Your Intellectual Property," Nucleus' Kauffman TechVenture FAST-TRAC®, April 10, 2012.
"The American Invents Act," November 18, 2011.
"Protecting Your Intellectual Property," Nucleus' Kauffman TechVenture FAST-TRAC®, October 25, 2011.
Commercializing Your Idea:  "Protecting Intellectual Property," October 13, 2011.
"The America Invents Act," October 4, 2011.
"Protecting Your Intellectual Property While Commercializing It," May 26, 2011.
"Protecting Your Life Sciences Company," May 18, 2011.
"Patenting Diagnostic Methods and Compositions," The Diagnostic Conference, Boston, March 22, 2011.
"Patent Law Essentials:  Why, What, Who, When, and How," February 16, 2011.
"Managing the Ripple Effect of "Public" Activities Surrounding Your Technology." May 20, 2010.
"Recognizing and Avoiding the Pitfalls of a Joint Research Program," April 23, 2010.
"Starting Up: Balancing Your Roles / Things You'd Wish You Knew," April 15, 2010.
"There's a Doc for that: Legal Documents for Commercializing Your Invention," International Society for Automation, March 15, 2010.
"Risk Management for Clinical Trials:  What's in Your Forms?," April 18, 2006.
Related News & Events