Finding IP Value
Two-Sentence Ruling By SCOTUS Unlikely To Be Last Word In Social Media Censoring Controversy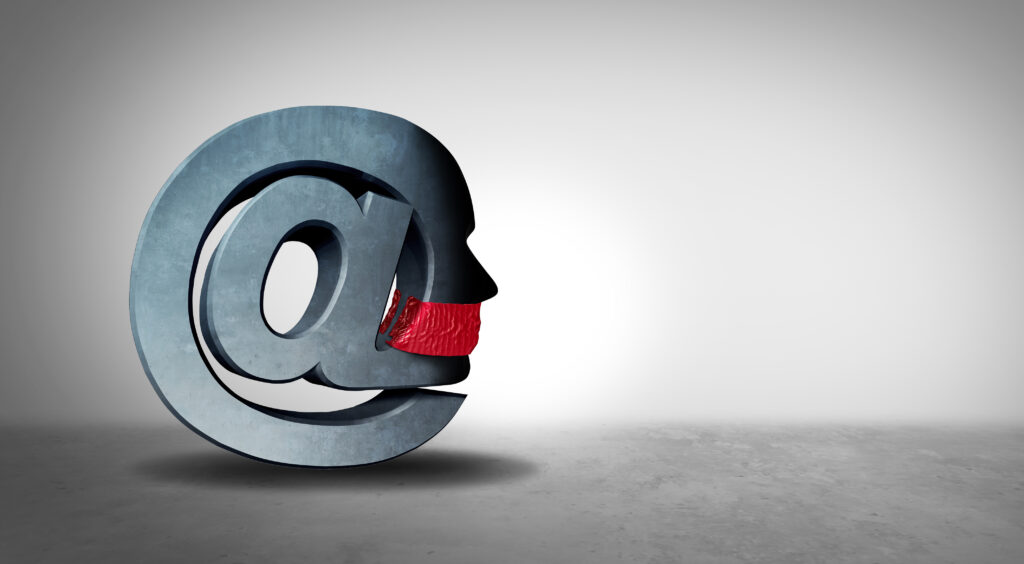 By: Alexa J. Elder & Stephen C. Hall
Last month, the United States Supreme Court ("SCOTUS") released the final two opinions of the session, bringing a close to what many have described as the most controversial and consequential Supreme Court term in recent history. While the Supreme Court's monumental decisions on gun control, climate change, immigration, prayer in school and particularly abortion have dominated recent headlines, the Court's two-sentence ruling in NetChoice, LLC v. Paxton[1], was perhaps the most important decision for tech and social media companies this term.
Central to the Paxton case was a Texas law, House Bill 20, which seeks to prohibit tech and social media companies from blocking, suspending, removing or otherwise "censoring" individual users based on their political ideologies. In short, H.B. 20 empowers individual Texans and the state of Texas to sue social media companies for engaging in prohibited censorship activities.
The law stems from common complaints that social media companies unfairly and disproportionately censor conservative based viewpoints. According to proponents of H.B. 20, the law's restrictions are necessary to combat "a dangerous movement by social media companies to silence conservative viewpoints and ideas," and to protects individuals' free speech rights to share their views on social media platforms.
Social media companies and individuals who oppose H.B. 20, however, have described it as a "constitutional train wreck." These opponents have warned that the law would force social media companies to host hate speech and extremism on their platforms, which they call a "clear violation" of the private companies' First Amendment rights. Additionally, the companies, some with 50 million plus users, have asserted that it is impossible in practice to comply with many of the provisions in the bill. These include a requirement that social media platforms must provide users with an appeal process for any content which is removed. They must also prepare and release a "biannual transparency report" that details every "action" taken against any "content."
Industry tech groups challenged H.B. 20 on these grounds last fall and in December 2021, Judge Robert Pitman of the U.S. District Court for the Western District of Texas temporarily blocked H.B. 20 from going into effect. Judge Pitman's decision, however, was vacated by the Fifth Circuit in May, without explanation. The tech group plaintiffs sought emergency relief from the Supreme Court and on May 31, 2022 the Supreme Court granted the plaintiff's request in a 5-4 decision which reinstated the District Court's temporary injunction. In other words, under SCOTUS's ruling House Bill 20 remains blocked for the time being.
The Paxton ruling was undoubtedly considered a victory to social media companies. Nonetheless, some experts have warned that the platforms shouldn't celebrate just yet, calling the 5-4 decision a "shockingly close call" and describing Justice Alito's dissenting opinion as an "invitation" for proponents of similar social media laws to try again. These experts predict that we can expect a major Supreme Court showdown over the issue of online speech in the near future.
Attorneys for the state of Florida and online-industry groups have already started preparing for the battle. According to recently filed documents, the parties in Net Choice v. Attorney General, Florida, have agreed to pause district court proceedings in an attempt to take the dispute surrounding Florida's social media law, Senate Bill 7072, to the United States Supreme Court. Like Texas's law, Senate Bill 7072 creates a private right of action for Florida residents who are "censored" or "banned" from a social media platform based on their political ideologies. The parties' agreement to bring the case to the Supreme Court comes after the Eleventh Circuit, unlike the Fifth Circuit, upheld the District Court's injunction prohibiting the enforcement of Senate Bill 7072's material provisions until the case was decided. Given the conflict between the Fifth and Eleventh Circuit's decisions, both sides are now urging SCOTUS to hear the case and to resolve the issue of whether and to what extent a state may regulate social media platforms under the First Amendment.
Whether SCOTUS takes the case, of course, has yet to be determined. Still, it seems all but certain that a Supreme Court ruling on how the First Amendment applies to social media platforms is inevitable – as for now, it's just a question of when.
---
[1] NetChoice, LLC v. Paxton, 142 S. Ct. 1715 (2022).