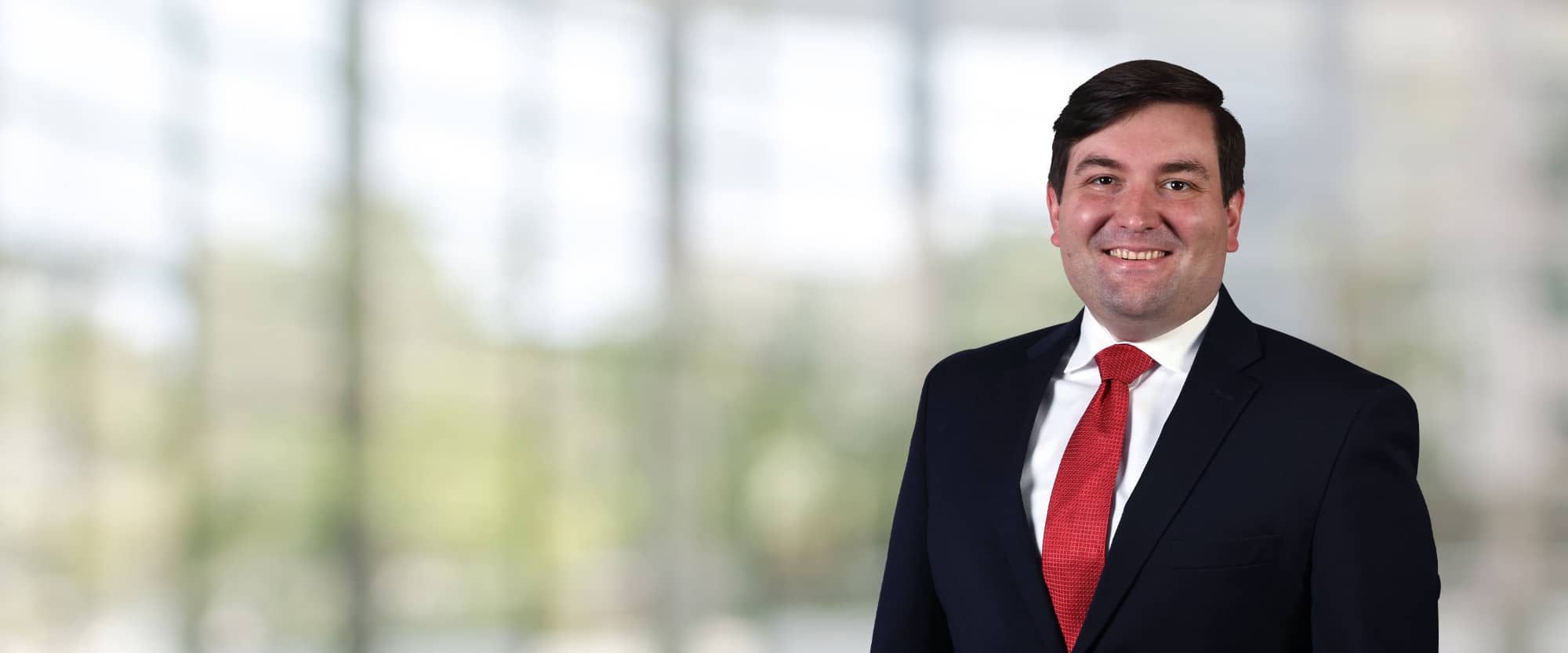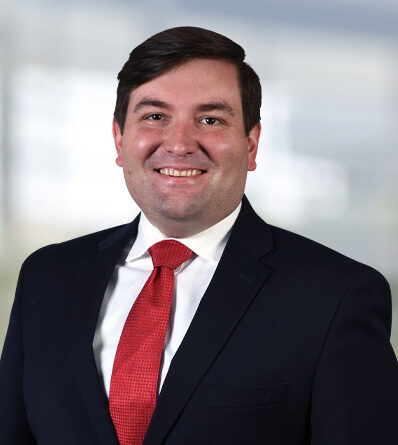 Sean G. Williamson
Partner
How do you achieve success for clients?
There are many clever lawyers, but our clients deserve more. Their success is achieved not merely through creative legal strategies but, most importantly, representation that is credible and trusted.
Sean G. Williamson is a member of the Firm's Litigation & Dispute Resolution Service Team. He represents a broad range of clients in a variety of complex commercial disputes, including products liability and warranty matters, fiduciary litigation and class actions. In addition, Sean works closely with the Firm's Intellectual Property Protection & Litigation Service Team, assisting businesses and innovators with the protection of valuable, competitive information, such as trade secrets and non-competition issues. Based on his experience practicing and clerking in federal court, Sean is also skilled in civil rights and constitutional litigation. The scope of Sean's practice extends from initial trial court proceedings through the entire appellate process.
Show More
REPRESENTATIVE MATTERS
White v. Universal Fidelity, LP, et al., No. 18-6302 (6th Cir. 2019). Represented hospital corporation and debt collection entities in equal protection challenge to Kentucky's necessaries statute and related FDCPA claims. Obtained dismissal of all claims in district court and affirmance on appeal.
Laborers' Local #231 Pension Fund, et al. v. PharMerica Corporation, et al., No. 3:18-CV-109-RGJ-CHL (W.D. Ky. 2019).  Obtained dismissal of shareholders' class action asserting claims under the Securities Exchange Act of 1934 for an allegedly misleading proxy statement associated with the company's going-private merger.
Cogan Imports, Inc. v. Dharod, No. 3:16-CV-00352-GNS (W.D. Ky. 2019).  Obtained summary judgment for defendant on breach of contract claims asserted by motor vehicle dealer attempting to compel specific performance of an alleged email contract for the $2.7 million purchase of a Ferrari automobile.
Parshall v. Citizens First Corporation, et al., No. 19-CI-00643 (Warren Cnty. Ky. Cir. Ct. 2019). Represented local bank and its corporate officers in class action litigation brought by a putative class of shareholders demanding supplemental proxy disclosures and injunctive relief under common law breach of fiduciary duty theories. The litigation was dismissed before shareholders' merger vote.
Young, et al. v. Sullivan University System, Inc., No. 2018-CA-000364-ME (Ky. App. 2019).  Represented private university system in obtaining affirmance of order denying certification of a putative class of former students alleging consumer protection and fraud claims related to the university's marketing and promotional materials for its culinary arts programs.
Libertarian National Committee, Inc., et al. v. Holiday, et al., No. 17-6216 (6th Cir. 2018).  Obtained summary judgment and affirmance on appeal in favor of public broadcaster on alleged viewpoint discrimination and other constitutional claims arising from a third-party candidate's exclusion from a televised forum for U.S. senatorial candidates.
Nami Resources Co., et al. v. Asher Land and Mineral, Ltd., et al., Nos. 2015-SC-000489-DG, 2016-SC-000235-DG (Ky. 2018).  Assisted appellate team in successfully obtaining reversal of $2.7 million punitive award based on alleged fraudulent concealment of underpaid natural gas royalties.
Conrad v. Bevin, et al., No. 3:17-CV-00056-GFVT (E.D. Ky. 2018).  Defeated motion for preliminary injunction, and obtained dismissal of action against physicians' health organization alleging antitrust, due process, equal protection, and ADA violations, as well as invasion of privacy claims, arising from temporary suspension of plaintiff's medical license.
National Achievement Source, LLC v. Jefferson County Public Schools, et al., No. 17-CI-004017 (Jefferson Cnty. Ky. Cir. Ct. 2017). Defeated motion for preliminary injunction, and obtained complete dismissal of vendor's claims of alleged violations of the Kentucky Model Procurement Code arising from student purchases of graduation memorabilia, including caps and gowns.
Boyd ex rel. B.B. v. Jefferson County Public Schools, et al., No 3:16-cv-00023-CRS-CHL (W.D. Ky. 2017). Obtained complete summary judgment in favor of public school district and employees on alleged Fourth Amendment, due process, and equal protection violations, as well as related state tort claims, arising from law enforcement's arrest of a student on school property.
Warren Paving, Inc., et al. v. Heartland Material, Inc., et al., No. 15-6052 (6th Cir. 2016). Defended favorable judgment on appeal in royalty dispute over limestone production.
Represents a wide range of commercial clients, including construction companies, equipment distributors, financial institutions, insurance companies, and natural resource companies, in a variety of disputes.
Advises commercial clients regarding non-competition and non-solicitation covenants and matters related to the protection of confidential business information and trade secrets.
Represents commercial lessors in disputes with tenants, including evictions and collections.
Represents state agencies, such as the state judicial conduct commission and public television broadcaster, in civil rights and constitutional litigation.
Represents county board of education in numerous matters, including commercial disputes with vendors, actions based on alleged personal injuries or violations of statutory or constitutional rights, as well as employment matters and labor arbitrations.
Represents healthcare providers in actions seeking Medicaid reimbursements from state administrative cabinet.
EDUCATION
J.D., University of Pennsylvania Law School, 2014
Executive Editor, Journal of Constitutional Law
Moot Court Board
Frank G. Leebron Memorial Prize (awarded to the graduating student who has written the best paper in the field of constitutional law)
Award for Distinguished Pro Bono Service
Legal Writing Honors
B.A., summa cum laude, University of Louisville, 2011 (History and Political Science)
McConnell Scholarship for Political Leadership
ADMISSIONS
Kentucky
United States District Court for the Western District of Kentucky
United States District Court for the Eastern District of Kentucky
United States Court of Appeals for the Sixth Circuit
United State District Court for the Southern District of Indiana
HONORS
Recognized by Best Lawyers® as "Ones to Watch" in Commercial Litigation, 2020, 2022
Recognized by his peers as a Kentucky Super Lawyers® Rising Star, 2019-2022
PROFESSIONAL EXPERIENCE
Clerk for the Honorable Charles R. Simpson, III, United States District Court for the Western District of Kentucky, 2014-2015
Summer Associate, Wyatt, Tarrant & Combs, LLP, 2013
Intern for the Honorable John G. Heyburn, II, United States District Court for the Western District of Kentucky, 2012
PROFESSIONAL ACTIVITIES AND MEMBERSHIPS
Kentucky Bar Association
Louisville Bar Association
CIVIC INVOLVEMENT
Volunteers of America Mid-States, Board of Directors

McConnell Center, University of Louisville, Advisor Moot Court Program

St. John Center for Homeless Men, Board of Directors, 2017-2019

The Home of the Innocents, Associate Board, 2017-2020

Junior Achievement of Kentuckiana, Young Professionals Board, 2017-2019

Louis D. Brandeis American Inn of Court, Associate Member, 2016-2018

YPAL Emerging Leaders Program, 2016
PUBLICATIONS
Comment, Contemporary Contextual Analysis: Accounting for Changed Factual Conditions Under the Equal Protection Clause, 17 U. Pa. J. Const. L. 591 (2014)
Related News & Events
Employment Law Report
September 28, 2020
Read More