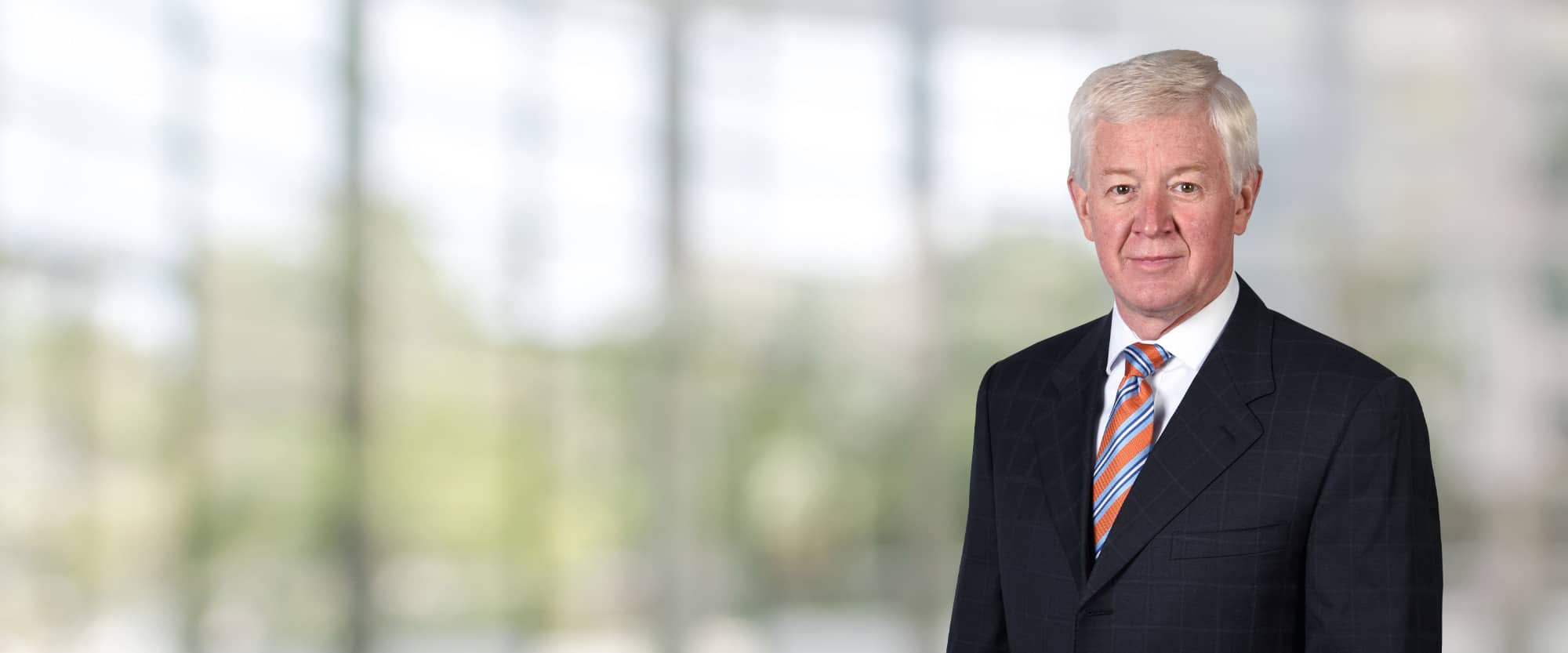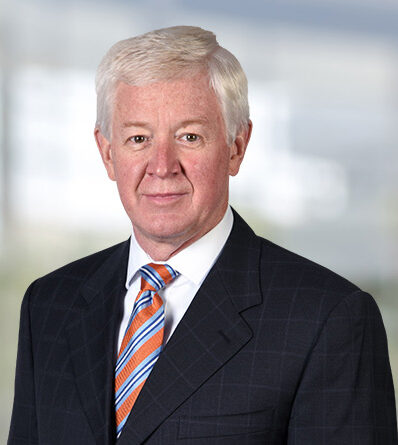 Don Kelly is Partner in Charge of the Louisville office.  He is a member of the Firm's Litigation & Dispute Resolution Service Team and Executive Committee.  He concentrates his practice in the areas of toxic tort and related environmental litigation, products liability and commercial disputes.
Show More
REPRESENTATIVE MATTERS
Mayberry, et al. v. KKR & Co., L.P., et al.  The firm represents Blackstone Group L.P. and related entities in a derivative suit brought on behalf of the Kentucky Retirement System alleging breach of statutory and fiduciary duties, civil conspiracy and aiding and abetting breaches of fiduciary and statutory duties.
Mariner Healthcare Management v. Omnicare.  The firm represents Mariner in a breach of contract arbitration involving a Master Pharmacy Products and Services Agreement.
Modern Holdings, LLC, et a. v Corning Inc., et. al. The firm represents Corning Incorporated in a several toxic tort actions stemming from the operation of a glass manufacturing facility.  The District Court denied plaintiffs motion for class certification.  Plaintiffs assert causes of action on multiple tort theories and seek personal injury and real property damage for alleged release of lead, arsenic and TCE.
Laborer's Local #231 Pension Fund v. PharMerica Corporation, et al.  The firm represents PharMerica and related entities in a securities fraud class action stemming from the Company's go-private sale in 2017.  The district Court granted defendants Motions to Dismiss under the Private Securities Litigation Reform Act.
Raheel Foods v. KFC Corporation and Yum! Brands, Inc. The firm successfully defended claims brought by a former franchisee for alleged Tortious Interference with Prospective Business Advantage and Unfair Business Practices.
RAM Engineering & Construction v. Louisville Arena Authority, et al. Bench trial awarded Judgment to RAM for violation of Kentucky Model Procurement Code requirements of good faith, fair dealing and use of commercially reasonable practices and misrepresentation by General Contractor, Mortenson Construction.
PharMerica Corporation v. AmerisourceBergen Drug Corporation.  The firm successfully represented PharMerica in a breach of contract and declaratory judgment action involving a Prime Vendor Agreement for wholesale pharmaceuticals.
Dow Chemical Company v. Anglers E. & C. Inc.  (U.S. District Court, S.D. Texas).  The firm represents American Commercial Lines LLC in this Superfund and Texas Solid Waste Disposal Act cost recovery action brought by other potentially responsible parties.
Kentucky Coal Association, et al. v. TVA.  Plaintiffs assert violations of the National Environmental Policy Act and the TVA Act based on TVA's decision to shut down two coal fueled units at it Paradise Power Plant in Muhlenberg, KY and construct a new natural gas fueled plant.  The firm represents the plaintiffs who seek injunctive relief based upon TVA's failure to prepare an Environmental Impact Statement prior to making its decision.
Sullivan-Schrenk v. Sullivan University Systems, Inc., et al.  In this shareholder's derivative and direct action suit plaintiff, as minority shareholder alleges director, officer and majority shareholder breaches of fiduciary duties, aiding and abetting and seeks injunctive relief.  The firm represents the Company and the outside directors.
Merrick, et al v. Brown-Forman Corporation and Heaven Hill Distilleries, Inc.  The firm successfully defended class certification claims for personal and real property damage and injunctive relief for mold allegedly caused by defendants' whiskey warehouse operations.  The putative class representatives assert causes of action for negligence, trespass and nuisance.
Edwin G. Middleton, Jr., as Trustee, et al. v. Nancy Lampton, et al.: In this shareholder's derivative suit plaintiffs alleged, inter alia breach of director fiduciary duties and sought injunctive relief, appointment of a Receiver and dissolution of the companies.  The firm represented three outside directors and the companies' President.  On July 24, 2013, the court granted defendants' motions to dismiss.
Blessey Marine Services, Inc. v. Jeffboat LLC.  This three day jury trial in USDC New Orleans involved the terms of a contract for the sale of five barges.  A jury verdict in our client, Jeffboat's favor was rendered on June 5, 2013.  On November 10, 2014 the U.S. Court of Appeals, Fifth Circuit affirmed the verdict in a to be published opinion, 2014 WL 5837059.
Asher Land and Mineral v. Nami Resources Company.  This nine day jury trial in Eastern Kentucky involved claims for underpayment of gas well royalties.  Causes of action included breach of contract, fraud and negligent misrepresentation.  On [date] the Kentucky Supreme Court reversed the punitive damages award.
Johnston Family Louisville LLC v. Kentuckiana Yacht Sales and Jefferson Yachts, Inc. This two and a half week jury trial over the purchase of a defective yacht resulted in a verdict for our client on claims of revocation of acceptance, breach of express and implied warranties, fraud and violation of the state consumer protection act. A judgment of $4,311,633 plus interest and attorneys fees was entered May 13, 2010.
Dickens, et. al. v. Oxy Vinyls, L.P. Plaintiffs sought property damages for odors and particulates allegedly emanating from Oxy Vinyls' facility. Class certification was denied and after discovery, the District Court granted Defendant's Motion for Summary Judgment. Plaintiffs voluntarily dismissed their appeal.
Bell, et. al. v. DuPont, et. al. In a similar case to Dickens, et. al. v. Oxy Vinyls, a class of over 6,000 members sought personal injury and property damages for odors and particulates allegedly emanating from a DuPont Performance Elastomers facility. The action was settled on a class basis for a "nuisance" amount by the creation of a local Scholarship Endowment Fund.
Perconti v. Thornton Oil Corporation. Mr. Kelly was co-counsel for Thornton Oil Corporation in this suit brought by the Company's former CEO alleging defamation, breach of contract, tortuous interference with business relationships and a variety of other business torts. The Company counterclaimed for damages arising from the former CEO's breaches of fiduciary duty, conversion of Company funds and fraud. After a four week trial, the jury found that the former CEO had committed fraud, breached fiduciary duties and converted Company funds and awarded the Company over $2 million on the Company's counterclaim.
Western Farmers Electric Cooperative v. Shell Oil Corporation. This four week jury trial involved the breach of a long term coal supply agreement and the calculation of various pricing indices. During discovery, a $2 million mistake in pricing was identified and paid to our client, an Oklahoma Electric Cooperative. The jury awarded an additional $5 million, plus interest, in past pricing damages.
Donald S. Houchens, et al. v. Rockwell International Corporation. This nine week jury trial was brought by approximately 80 plaintiffs seeking personal injury, medical monitoring and real property damages against Rockwell for the release of PCBs from a former die cast facility. Plaintiffs brought causes of action based upon strict liability, negligence, intentional and negligent trespass and nuisance. The case initially resulted in the then largest jury verdict in the state of Kentucky, but was reversed on two separate occasions by the Court of Appeals, affirmed by the Supreme Court and judgment rendered on behalf of Rockwell.
Gregory D. Goodman, et al. v. Rockwell International Corp. Plaintiff sought personal injury and property damages against Rockwell for the release of PCBs for its former die cast facility. Plaintiffs' causes of action were based upon strict liability, negligence, intentional and negligent trespass and nuisance. A four week jury trial resulted in a hung jury, after which the District Court granted judgment to Rockwell.
Day v. E.I. du Pont De Nemours Company. Toxic tort suit claiming personal injuries as a result of a sulfuric acid release. Mr. Kelly was lead counsel for du Pont. After a two week trial, the jury returned a nuisance value verdict on behalf of Plaintiff, which was less than the amount offered in settlement.
Autodie International, Inc. v. General Electric Company, arbitration. Mr. Kelly was lead outside counsel in this arbitration against GE's then Electric Appliances division brought by the supplier of multiple major appliance manufacturing lines in KY, IN and AL. Hal Bogard was GE's lead in-house counsel. The matter was successfully settled on the eve of trial.
Michael J. Turner, et al. v. The Archdiocese of Louisville, et al. Mr. Kelly was lead counsel on behalf of a group of defendants in 19 lawsuits alleging sexual abuse of a minor. After a year of discovery, the cases, which had not been consolidated, were all settled in a court ordered settlement conference.
REPRESENTATIVE CLIENTS
American Commercial Barge Line
Blackstone Group LP
Brunswick Corporation
Chemours
Corning Incorporated
CSX Transportation, Inc.
E.I. du Pont De Nemours and Company
Ingersoll-Rand Company
Kentucky Fried Chicken Corporation
Oxy Vinyls, L.P.
Paducah & Louisville Railway, Inc.
Papa John's International, Inc.
PharMerica Corporation
Rockwell Automation, Inc.
The Province of Our Lady of Consolation, Inc.
Thorntons LLC
Uniper
Vinland Energy Company
Volvo
EDUCATION
J.D., cum laude, University of Louisville Brandeis School of Law, 1988
Member of Brandeis Honor Society
B.S.M.E., Purdue University, 1983
ADMISSIONS
U.S. District Court, Eastern and Western Districts of Kentucky
Kentucky Supreme Court
U.S. Court of Appeals, Fifth Circuit
U.S. Court of Appeals, Sixth Circuit
U.S. Court of Appeals, Seventh Circuit
HONORS
Woodward/White's The Best Lawyers in America® in the areas of Commercial Litigation, Litigation-Environmental and Product Liability Litigation-Defendants, 2010-present, and Mass Tort Litigation/Class Actions-Defendants, 2013-present
Best Lawyers® 2020 Louisville Product Liability Litigation – Defendants "Lawyer of the Year"
Best Lawyers® 2019 Louisville Mass Tort Litigation/Class Actions – Defendants "Lawyer of the Year"
Best Lawyers® 2014 Louisville Litigation – Environmental "Lawyer of the Year"
Recognized among the Top 50 Kentucky Super Lawyers®, 2020
Highest Professional Rating by Martindale-Hubbell Law Directory
Recognized by his peers in Kentucky Super Lawyers® in the practice area of Business Litigation
Recognized as one of the "Top Lawyers" in the area of General Litigation and Product Liability Law – Defense by Louisville Magazine, March 2014
Distinguished Alumnus Award Louis D. Brandeis School of Law, University of Louisville, 2017
Distinguished Alumni Award, Catholic Education Foundation, 2016
First Capital Bank "Deep Roots" Award, 2002
Leadership Award from Volunteers of America, Board Chair 2000-2002
PROFESSIONAL EXPERIENCE
Mechanical Engineer with Louisville Gas and Electric Company
PROFESSIONAL ACTIVITIES AND MEMBERSHIPS
Louisville, Kentucky, and Federal Bar Associations
Appointed by the Supreme Court to the Jefferson County Business Court Docket Advisory Committee 2019
Defense Research Institute
Kentucky Defense Research Institute
Leadership Louisville, 2001
Leadership Kentucky, 2007
CIVIC INVOLVEMENT
Board of Trustees, Bellarmine University
Director Saint Xavier High School
Director of New Hope Foster Homes
Director of Community Catholic Center
Past Director of GLI, Inc.
Co-Chair of 2017, 2019 Boy Scouts of America Leadership Luncheon
Legal Aid Society, Justice For All Campaign Committee, 2015, 2016, 2017, 2018
Metro United Way 2016, 2018 Campaign Cabinet
Chair of 2014 Saint Xavier High School Gala Steering Committee
Member of Saint Xavier High School Advancement Committee
Member of President's Advisory Committee and past Chair of Volunteers of America, Kentucky and Tennessee
Past Director and Secretary of Catholic Education Foundation, Inc.
Past Chair of Junior Achievement of Kentuckiana, Inc.
Past Chair and Member of the Saint Barnabas Parish Council and Co-Chair of Capital Campaign
Past Director and Chair of Office of Lifelong Formation and Education Advisory Board for the Archdiocese of Louisville
PRESENTATIONS
General Counsel Round Table, Merger and Acquisition Considerations, Wyatt's 9th Annual In-House Counsel Institute, June 2016
General Counsel Round Table, Wyatt's 8th Annual In-House Counsel Institute, June 2015
Legal Issues for Traditional "Vice" Industries, KBA's Issues for Corporate House Counsel CLE Seminar, April 2015
Association of American Railroads presentation, April 2015
Pre-empting the Angel's Share, April 2015
In-House Counsel's Relationship with the Board, November 2014
Electronic Discovery: Recommendations to Limit Risk, March 2014
Company in Crisis: When Minority Shareholders File Suit, November 2013
Getting the Most from Client Presentations and Sales Pitches; Moderator, Dupont Legal Network Marketing and Referral Conference, September 2013
Story-Boarding: Driving Consistency and Authenticity of Your Message Across Your Entire Board, Nonprofit Leadership Conference, October 2012
Marketing Successes: We can Learn From That!  Panelist, DuPont Legal Network Marketing and Referral Conference, September 2012
Handling a Toxic Tort Matter; Kentucky Bar Association 2011
Anatomy of a Toxic Tort Class Action; Louisville Bar Association 2010
Fixing the Fight: Effective Dispute Resolution Strategies Before the First Bell, Louisville Bar Association 2009; Kentucky Bar Association 2010
Legal and Practical Considerations in Loan Workout, Collection & Foreclosure, and Bankruptcy; Workout/Collection/Bankruptcy presentation to Your Community Bank, June 2009
Qualifying Scientific Experts; Tennessee Lawyers Assistance Program 2006
The Daubert Challenge, Kentucky Defense Counsel