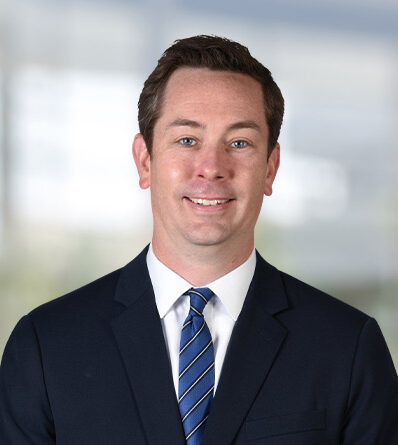 Brian A. Veeneman
Partner
How do you achieve success for clients?
As a construction attorney, my clients achieve success when a project is complete. But clients often measure project success in stages – the planning/design of a project; executing the contract to build the vision; completing construction; and the owner moving in. Whether I represent an owner, contractor, or design professional, great projects yield collaborative success when the project is complete. Additionally, avoiding disputes during and after a project is a great success, but if a dispute arises, success is achieved when we vigorously and efficiently resolve the issue so that everyone can focus on the next project.
Brian Veeneman is a member of the Firm's Litigation & Dispute Resolution Service Team. He maintains an active litigation practice representing primarily public and private construction owners, general and specialty contractors, material suppliers, design professionals and bonding companies across the country on engineering and construction-related issues.  His work involves counsel regarding contract drafting, standardization and negotiation while providing advice to project participants prior to commencement of the project.  Mr. Veeneman also guides clients in resolving problems arising either during a project or post-project completion including issues relating to scope, defective design or construction, scheduling or delay, safety (OSHA), prevailing wage, payment, surety bonds, mechanics' liens and project close out, among others.  Mr. Veeneman leads clients through all types of dispute resolution procedures, including negotiation, mediation, administrative hearings, binding arbitration, litigation and appeals.
Show More
REPRESENTATIVE MATTERS
Construction Contracts
Represented a large urban utility in drafting a new Progressive Design-Build contract for the use on a combined four projects that total approximately $100 million.  The intent was for this document to also become a future standard use document for the municipality.  This representation also included assisting with the issuance of a significant RFP and assisting with contract negotiations with the Design-Builder.
Drafted and negotiated all construction contracts (approximately 35) on behalf of a Midwestern regional hospital system for a $300+ million new hospital campus, including a connecting developer-owned medical office building.
Created a portfolio of custom contracts for a regional hospital system's standard use on all system construction projects.
Represented an owner in all aspects of design and construction of a new high profile headquarters project, including planning, contracting, and project operations and disputes.  This matter included drafting and negotiating an $85 million contract engaging a Construction Manager using a cost plus a fee with a guaranteed maximum price (GMP) contract.
Represented numerous owners, contractors, subcontractors, architects, and engineers for contract drafting and negotiations, including for alternative project delivery methods such as design-build, progressive design-build, GMGC, and P3.
Construction Dispute Resolution (Mediation, Arbitration, Litigation, Appeals)
Represented an auto part manufacturer and supplier related to the design and construction of their new $35 million production facility, assisting them in resolving significant claims associated with cost overruns, completion delay, and liquidation damages.
Successfully guided a hospital owner through claims and disputes with a construction manager for defective work and delay damages totaling $25 million to a negotiated resolution, 80% in favor of owner.
Successfully represented a local government in collecting damages related to the defective installation of sewer lines.
Represented contractors on various public education (elementary, secondary, and post-secondary) facility projects throughout the state of Kentucky related to alleged defects and payment claims.
Represented Jefferson County Board of Education related to contractor claims and liens on school facility projects.
Represent an owner of a Kentucky landfill pursuing a claim for approximately $1M in damages related to project delay.
Represented a publicly traded company on a warehouse facility project by successfully terminating a general contractor for breach of contract related to delay and defective work, as well as defending a mechanics' lien filed by a subcontractor.
Represented a health sciences affiliate of the University of Louisville on a $75 million capital project to successfully resolve disputes related to defective work by an elevator subcontractor, significant delays and defective work by a cabinetry subcontractor, and mechanics' liens filed by a subcontractor.
Represented a Construction Manager in a dispute with a public school system on a new elementary school.  The dispute with the school was negotiated to a successful resolution and related claims against subcontractors were litigated.
Represent a manufacturing and warehousing company whose facility was repaired following a fire.  We are defending a mechanics' lien filed by a subcontractor for $700 thousand, despite executing lien waivers during the project, and pursuing claims to require indemnification by the out of state construction manager.
Represent an industrial park owner related to claims of defective construction related to an office park lake that won't hold water.
Successfully enforced and defended numerous contract, lien, and bond claims for outstanding contract balances.
EDUCATION
J. D., University of Louisville School of Law, 2005
MBA, University of Louisville, 2005
B.S., University of Louisville, 2000 (Chemical Engineering)
ADMISSIONS
Kentucky
U.S. District Courts, Western and Eastern Districts of Kentucky
HONORS
Recognized by his peers as a Kentucky Super Lawyers® Rising Star, 2015 – 2017
Recognized by Best Lawyers® Louisville in the area of Construction Litigation, 2024
Louisville Business First Forty Under 40 – 2011
PROFESSIONAL ACTIVITIES AND MEMBERSHIPS
American Bar Association

Forum on the Construction Industry

Division 9 – Specialty Trade Contractors and Suppliers
Division 12 – Owners & Lenders

Litigation Section

Kentucky Bar Association

Construction and Public Contract Law Section

Chair, 2013-2015
Chair-Elect, 2011-2013
Vice-Chair, 2009-2011

Louisville Bar Association
American Health Law Association
CIVIC INVOLVEMENT
Rotary Club of Louisville, Leadership Fellows Committee – Vice Chair; Rotaract Committee – Past Chair
Medical News, Editorial Board Member
Louisville Health Enterprise Network, Health Care Fellow, 2013
Leadership Louisville Class of 2021
PUBLICATIONS AND PRESENTATIONS
COVID-19 Legal Issues in Construction
Understanding Construction Contract Essentials
Understanding Issues in Contract Administration
Engineering Law: Law of Engineering Malpractice
Reviewing Contracts for Design Services
Construction Contracts and OSHA Seminar
Do Your Contracts for Design and Construction of a Healthcare Facility Require Compliance with Applicable Healthcare Laws?
My contract contains a warranty provision – Isn't that a good thing?
Health Care Reform – Trends in Health Care Design and Construction
Liquidated and Consequential Damages
You want to build a new facility or addition – Is all you have to do is hire someone and plan the grand opening?
What Every Health Lawyer Needs to Know about Construction
Construction Safety and Compliance from a Legal Perspective
The Decision to Arbitrate
Risks of Waiving Consequential Damages
The Effects of Healthcare Reform on Infrastructure Development Projects
Am I bound by terms in a contractor's agreement or proposal I did not sign?
Construction Contract Issues Seminar
Healthcare Construction – The potential Fisks of Waving Consequential Damages
Healthcare Construction Projects
The Purpose and Effects of a Mechanics' and Materialmen's Lien
Keeping Construction Projects on Schedule
Health Care Facility Construction Contracts
Contract Review
Building a Solid Foundation – Construction Contract Issues for Health Care Facilities
KY Fairness in Construction Act 2007 / Mechanics Lien seminar
Related News & Events