Employment Law Report
NLRB Memo Suggests Non-Compete Provisions Violate Federal Labor Law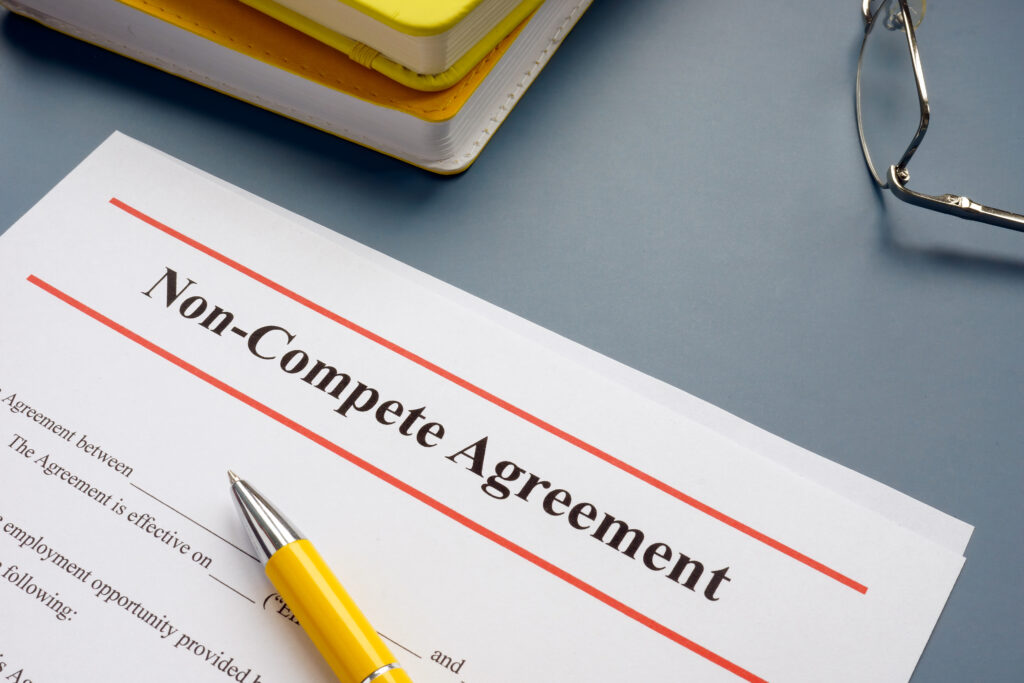 By: Jacob M. Abrahamson with Assistance from Isaac Keller, Wyatt Summer Associate
Federal officials have once again placed non-compete provisions in the administrative crosshairs. On the heels of the Federal Trade Commission's proposed rule effectively banning non-compete provisions in employment contracts, National Labor Relations Board ("NLRB") General Counsel Jennifer Abruzzo recently authored a memo contending that most non-compete provisions in employment agreements violate the National Labor Relations Act (NLRA).
Two NLRA provisions are relevant here: Section 7 (codified at 29 U.S.C. § 157), which protects employees' rights to organize for better working conditions, and Section 8(a)(1) (codified at 29 U.S.C. § 158(a)(1)), which prohibits employers from interfering with, restraining, or coercing employees exercising the rights from Section 7. Taken together, Abruzzo argues that overbroad non-compete provisions in employment contracts violate Section 8(a)(1) by reducing the leverage available to employees and making it more difficult to find work in the event that they are discharged for organizing. Abruzzo argues that these clauses deny employees access to employment opportunities, which in turn prevents employees from exercising their statutory rights to organize under Section 7 of the NLRA.
Abruzzo outlines "five specific types of activity protected under Section 7 of the Act" that non-compete provisions may unlawfully restrict:
(1) concertedly threatening to resign to demand better working conditions;
(2) carrying out concerted threats to resign or otherwise concertedly resigning to secure improved working conditions;
(3) concertedly seeking or accepting employment with a local competitor to obtain better working conditions;
(4) soliciting co-workers to go work for a local competitor as part of a broader course of protected concerted activity; and
(5) seeking employment, at least in part, to specifically engage in protected activity with other workers at an employer's workplace, such as through union organizing.
As a result of those potential restrictions, Abruzzo argues that employers using overly broad non-compete agreements violate Section 8(a)(1). And few non-compete provisions are excluded from the category of "overly broad"—other than the need to protect trade secrets or prevent an employee from managing or owning a competitor, Abruzzo expresses doubt that run-of-the-mill non-compete provisions could ever be justified.
Underlying Abruzzo's main argument—that these non-compete provisions violate the NLRA—is a new standard Abruzzo has urged the Board to adopt to determine when an employer has violated Section 8(a)(1). In her view, a Section 8(a)(1) violation happens when the provision in question "reasonably tends to chill employees in the exercise of Section 7 rights . . ." The Board is currently adjudicating a case, Stericycle Inc., that presents an avenue for the NLRB to adopt the legal theory Abruzzo advocates for.
So what does Abruzzo's memo mean for employers? For now, it is another signal that employers should stay up to date on federal efforts to ban non-compete provisions.
One reason to keep these efforts in mind is Abruzzo's role in enforcing the NLRA. Her interpretation of the NLRA is not binding, but it could influence the Board to adopt a new interpretation. As General Counsel, Abruzzo is separate from the Board, which is the body that adjudicates unfair labor practice cases. One of her responsibilities, though, is deciding when to file complaints of unfair labor practices. She then "becomes an advocate before the Board in support of the complaint." NLRB v. Sears, Roebuck & Co., 421 U.S. 132, 138–39 (1975). So by deciding when to bring complaints involving non-compete provisions, she can give the Board the opportunity to accept her interpretation of the NLRA.
Of course, any decision rendered by the Board is subject to review by federal courts, including the Supreme Court. Several steps remain before Abruzzo's legal views can become the law. Yet her memo directs NLRB's regional directors to "submit . . . cases involving non-compete provisions that are arguably unlawful" under her theory. So it should put employers on notice that their non-compete provisions could be scrutinized for potential violations of the NLRA.
Finally, Abruzzo's memo reflects a broader effort to disfavor non-compete provisions, coming from both federal agencies and state governments. We recommend that employers review existing non-compete provisions in employment contracts to assess whether they protect against disclosure of confidential information or guard another business interest. And if an employer wishes to implement new non-compete provisions to protect the interests of their business, they should contact one of our Labor and Employment attorneys to help navigate this rapidly changing area of the law.
For more updates on non-compete provisions and other employment law topics, be sure to visit the Wyatt Employment Law Report blog.