Coronavirus News
CMS Issues COVID-19 Health Care Staff Vaccination Interim Final Rule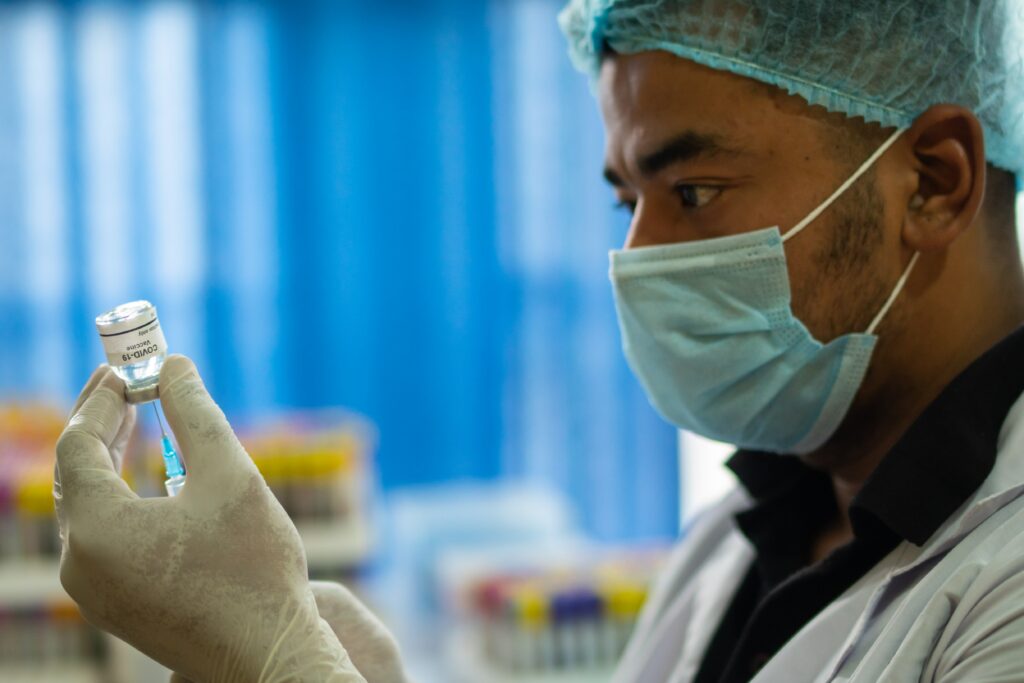 The Centers for Medicare & Medicaid Services (CMS) issued an interim final rule for the emergency regulation taking effect on November 5th, 2021, requiring all eligible staff of health care facilities covered by the regulation to receive the COVID-19 vaccine. In order to be in compliance, facilities covered by this regulation "must establish a policy ensuring all eligible staff have received the first dose of a two-dose COVID-19 vaccine or a one-dose COVID-19 vaccine prior to providing any care, treatment, or other services by December 5, 2021. All eligible staff must have received the necessary shots to be fully vaccinated – either two doses of Pfizer or Moderna or one dose of Johnson & Johnson – by January 4, 2022." The regulation does provide for exemptions based on medical conditions and religious beliefs.
The regulation requires healthcare providers establish a process or policy to fulfill this vaccination requirement over two phases. Phase 1 must be implemented by December 6, 2021 and Phase 2 must be implemented by January 4, 2022. CMS provides the following:
"Currently, for two of the three vaccines licensed or authorized for use in the U.S., the primary vaccination series consists of a defined number of doses administered a certain number of weeks apart; therefore, we have made this particular requirement effective in two different phases. We discuss these implementation phases further in section II.B. of this IFC, but note here that Phase 1, effective 30 days after publication of this IFC, includes the requirement that staff receive the first dose, or only dose as applicable, of a COVID-19 vaccine, or have requested or been granted an exemption to the vaccination requirements of this IFC. Phase 2, effective 60 days after publication of this IFC, requires that the primary vaccination series has been completed and that staff are fully vaccinated, except for those staff who have been granted exemptions, or those staff for whom COVID-19 vaccination must be temporarily delayed, as recommended by CDC, due to clinical precautions and considerations. As discussed in section II.B. of this IFC, staff who have completed the primary series for the vaccine received by the Phase 2 implementation date are considered to have met these requirements, even if they have not yet completed the 14-day waiting period required for full vaccination." Click here for full guidance.
This regulation applies to the following facilities that are Medicare or Medicaid-certified: Ambulatory Surgical Centers, Hospices, Programs of All-Inclusive Care for the Elderly, Hospitals, Long Term Care Facilities, Psychiatric Residential Treatment Facilities, Intermediate Care Facilities for Individuals with Intellectual Disabilities, Home Health Agencies, Comprehensive Outpatient Rehabilitation Facilities, Critical Access Hospitals, Clinics (rehabilitation agencies, and public health agencies as providers of outpatient physical therapy and speech-language pathology services), Community Mental Health Centers, Home Infusion Therapy suppliers, Rural Health Clinics/Federally Qualified Health Centers, and End-Stage Renal Disease Facilities.
All current and new staff, as well as individuals under contract with a facility covered under this regulation, who provide any care, treatment or other services for the facility and/or its patients, are subject to this vaccine requirement. Specifically covered are "facility employees, licensed practitioners, students, trainees and volunteers." It also applies to those staff members who interact with patients outside of the facility providing, for example, home health and home infusion therapy. Individuals who provide services 100 percent remotely, such as fully remote telehealth or payroll services, and do not have direct contact with patients or other staff, are not subject to the vaccine requirement under this regulation.
In order to ensure compliance, "CMS expects state survey agencies to conduct onsite compliance reviews of these requirements in two ways:
(i) State survey agencies would asses all facilities for these requirements during the standard recertification survey.
(ii) State survey agencies would assess vaccination status of staff on all complaint surveys."
To determine if a facility is in compliance, Surveyors are expected to review the facility's COVID-19 vaccination policies and procedures, the number of resident and staff COVID-19 cases over the last 4 weeks and a list of all staff and their vaccination status. If found non-compliant, the facility will have an opportunity to come into compliance before any additional action occurs. Stakeholders have 60 days to submit a formal comment on this emergency regulation, however, CMS makes clear that because this is an emergency regulation, the requirements will go into effect immediately before any additional response is provided by CMS. The comment period officially closes on January 4, 2022, at which time CMS will consider and respond to comments for "potential future rulemaking, if needed."