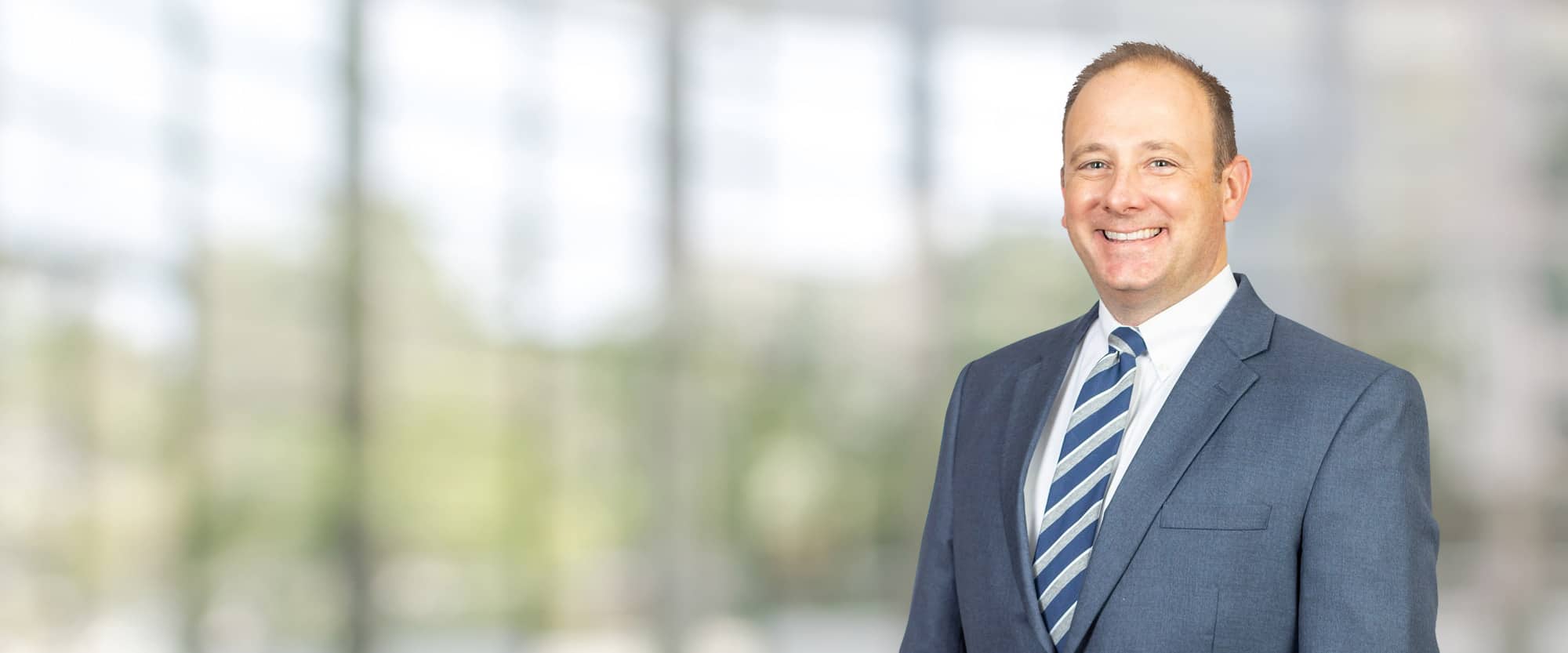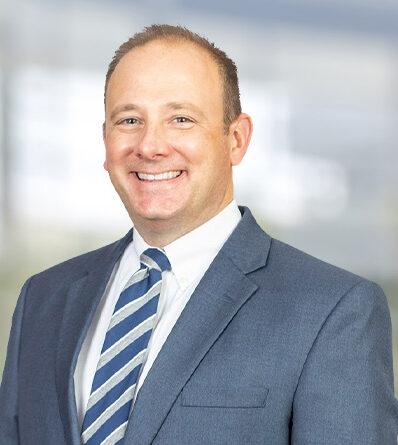 Kevin L. Johns
Partner
How do you achieve success for clients?
Listening to their worries and concerns, providing unique and creative estate planning options, working with the client to develop a comprehensive, custom tailored estate plan and witnessing that client's relief and peace of mind when the estate plan is completed.
Kevin Johns counsels clients on estate planning matters, estate administration, federal estate and state inheritance tax issues, special needs trusts, charitable planning techniques, business succession planning and general business matters.
Show More
REPRESENTATIVE MATTERS
Representation of families with respect to estate planning designed to provide for surviving spouse and children while minimizing federal estate taxes
Preparation of special needs trusts for families with a disabled child
Representation and consultation with clients with respect to entering into premarital agreements and postnuptial agreements
Representation and consultation with individuals starting new business ventures with respect to choice of entity, entity formation and contract negotiations
Representation of business owners in the transition and continuation of closely-held businesses and family farms with the preparation of buy-sell agreements, stock restriction agreements and other business succession planning techniques
Preparation of federal estate, state inheritance tax returns for estates and fiduciary income tax returns for trusts and estates
Representation of banks and trust departments with complex estate and trust administration, litigation support, and estate, gift and fiduciary income tax issues
Organization and development of various non-profit corporations
Representation of individuals and families concerning charitable planning techniques and options
EDUCATION
M.B.A., magna cum laude, Eastern Kentucky University, 1999
J.D., Capital University; Order of Curia, 1998
B.B.A., magna cum laude, Morehead State University, 1994
ADMISSIONS
HONORS
Highest Professional AV Rating by Martindale-Hubbell Law Directory. Peer references stated that,"Kevin is an excellent attorney that cares for his clients and takes his time to make sure he guides them in how to build and plan for their futures." "I have worked with Kevin on several matters over the years. In my experience, he consistently exhibits the highest degree of ethical behavior, skill, and judgment." "Kevin is very well respected as a trust and estates attorney in Central Kentucky. Not only is Kevin an excellent attorney, but he is also a great person who seems to genuinely care about his clients."
Woodward/White's The Best Lawyers in America® Trusts and Estates, 2010 – present
Best Lawyers® 2019 Lexington Trusts and Estates "Lawyer of the Year" 2019
Kentucky Super Lawyers®, 2015 – present
2017 Fayette County Bar Association Service Award
PROFESSIONAL EXPERIENCE
Before joining Wyatt, Kevin practiced law with Vimont and Wills, PLLC in Lexington, Kentucky with an emphasis in estates, trusts and corporate law and served as a trust officer with Fifth Third Bank in Lexington, Kentucky where he administered numerous trusts and estates and counseled trust clients regarding all facets of trust and estate law and estate, inheritance, fiduciary income and gift taxation.
PROFESSIONAL ACTIVITIES AND MEMBERSHIPS
Fellow in The American College of Trust and Estate Counsel (ACTEC)
Leadership Kentucky, Class of 2012
Leadership Lexington, Class of 2008
Bluegrass Estate Planning Council
Young Lawyers Section of the Kentucky Bar Association
Real Property, Probate and Trust Section of the Kentucky Bar Association
Real Property, Probate and Trust Law Section of the Florida Bar Association
Fayette County (Kentucky) Bar Association
CIVIC INVOLVEMENT
Board of Trustees, Morehead State University Foundation, Inc.
Board Member, Life Plan of Kentucky, Inc.
President, Central Kentucky Planned Giving Committee, Inc.
Former President, Bluegrass Estate Planning Council
Former Board Member, The Future is Now Advisory Committee, ARC of Kentucky
Lexington Police Department Community Based Leadership Program
Former Board Member, Lexington Habitat for Humanity
PUBLICATIONS
"Epidemic of Opioid Abuse and Other Addictions," Trusts & Estates, December 2017
Chapter 8, Charitable Planning, Kentucky Estate Planning, 4th Edition, University of Kentucky College of Law, Office of Continuing Legal Education, 2015
Chapter 9, Claims Against the Estate, Kentucky Estate Administration, 5th Edition, University of Kentucky College of Law, Office of Continuing Legal Education, 2014
Chapter 1, Overview to Estate Planning, Kentucky Estate Planning, 2nd and 3rd Editions, University of Kentucky College of Law, Office of Continuing Legal Education, 2009
PRESENTATIONS
"What Bank Counsel Need to Know About Trust Administration and Operation," University of Kentucky 39th Annual Conference on Legal Issues for Financial Institutions, Lexington KY (October 2019).
"Current Developments in Estate Planning," University of Louisville 22nd Annual Estate Planning Institute, Louisville, KY (April 2019)
"The Opioid Challenge for Fiduciaries," 28th Annual Trust Advisors Forum, Trust Education Foundation, Inc., Pinehurst, North Carolina (February 2019)
"Estate Planning: The Tax and Non-Tax Considerations," Community Trust and Investment Company Executive Leadership Central Kentucky Region Meeting, Lexington, KY (August 2018)
"Estate Planning and Charitable Giving in 2018: Just Look Around, Opportunities are Abound!" Foundation for Appalachian Kentucky, Hazard, KY (August 2018)
"Current Developments in Estate Planning," University of Louisville 21st Annual Estate Planning Institute, Louisville, KY (April 2018)
"How to Become Planned Giving "Superheroes" in the Eyes of Donors and Organizations," Council for Advancement and Support of Education (CASE KY) Annual Conference (December 2017)
"Current Developments in Estate Planning," University of Louisville 20th Annual Estate Planning Institute, Louisville, KY (April 2017)
"Estate Planning for Pets and Animals," Lexington Kennel Club, Lexington, KY (January 2017)
"Current Developments in Estate Planning," University of Louisville Estate Planning Institute, Louisville, KY (May 2016)
"Estate Planning for 2016 and Beyond," Salomon & Company Seminar, Lexington, KY (May 2016)
Wealth preservation discussion, Morehead State University Retirees Association Annual Meeting, Morehead, KY (April 2016)
"A Look at Planned Giving" – Salomon & Company CPE Seminar, Lexington, KY (October 2015)
Planned Giving Panel, Association of Fundraising Professionals-Kentucky Chapter Annual Conference, Lexington, KY (September 2015)
"Estate and Charitable Planning" – Madison County Estate Planning Council, Richmond, KY (May 2015)
"Current Developments in Estate Planning" – Louisville Estate Planning Institute, Louisville, KY (May 2015)
"What is a Special Needs Trust and Does your Client Need One?" – National Business Institute, Lexington, KY (February 2015)
"Drafting the Special Needs Trust – Sample Provisions, Review and Analysis" – National Business Institute, Lexington, KY (February 2015)
"The How, Why, When, Where and What to Expect when working with Trust and Estate Attorneys" – Merrill Lynch Financial Advisors, Lexington, KY (November 2014)
"A Careful Exam of A Special Needs Plan and a Detailed Study of Guardianships in Kentucky" – Kentucky Certified Public Accountants, Salomon & Co, Lexington, KY (October 2014)
"Saving and Sharing:  A Look At Estate Planning and Charitable Giving" – Legal Issues for Educators Seminar presented by Wyatt, Tarrant & Combs, LLP, Lexington, KY (September 2014)
"What On-Line Documents are Not Telling You" – i Know Expo, Lexington, KY (April 2014)
"Estate Planning in Kentucky and Florida" – 2nd Annual Tip Off Classic, Bank of the Bluegrass, Bonita Springs, FL (March 2014)
"Estate Planning for Farmers – Business Structure Choice and Conversion" – National Business Institute, Louisville, KY (January 2014)
"Estate Planning in 2014 – What Will the New Year Bring? – Opportunities with Decanting, Portability and a Few Other Nifty Ideas in Between" – CPE – Kentucky Certified Public Accountants, Salomon & Co., Lexington, KY (December 2013)
"Estate Planning in 2014 – What Will the New Year Bring?" – Kentucky Society of Financial Professionals, Lexington, KY (November 2013)
"Financial and Estate Planning" – Kentucky Dental Association, Boardman Wealth Planning, Inc., Louisville, KY (March 2013)
"Estate Planning in Kentucky and Florida" – 1st Annual Tip Off Classic, Bank of the Bluegrass, Bonita Springs, FL (February 2013)
"2013 Economic Roundtable" – Boardman Wealth Planning, Inc., Lexington, KY (February 2013)
"The Intersection of Trust & Estate Law and Real Estate Practice," 12th Biennial UK Real Estate Law and Practice Institute, Lexington, KY (October 2012)
"Tis the Season for Giving!  Minimizing Certain Fears Before the Uncertainty Reappears.  Emphasis on Year End Estate Tax Planning and Private Split Dollar Arrangements" –  Salomon & Co., Lexington, KY (December 2011)
Estate Planning and Business succession planning presentation with Federated Insurance, Cookeville, TN (November 2010)
Estate Planning for Families with a Special Needs Child, Danville, KY (October 2010)
Estate and Charitable Planning Presentation and Panel Discussion – Central KY Planned Giving Council Annual Meeting, Lexington, KY (September 2010)
Estate Planning and Charitable Planning Presentation – Manchester Memorial Foundation, Manchester, KY (August 2010)
Estate Planning and Business Succession Planning Seminar – Federated Insurance District Business Council, Lexington, KY (August 2010)
Estate Planning for Families with a Special Needs Child with Mass Mutual and ARC of Kentucky, Louisville, KY (April 2010)
Estate Planning Presentation with Cornerstone Senior Services, Sandy Hook, KY (April 2010)
Estate Planning and Business Succession Planning Seminar with Mass Mutual, Lexington, KY (March 2010)
Fayette County Bar and Society of Financial Professionals Probate Primer at Fayette Circuit Court, Lexington, KY (March 2010)
Estate Planning and Business Succession Workshop/Seminar with Federated Insurance, Louisville, KY (March 2010)
Working with Professional Advisors: What CPAs and Attorneys Expect When Working With Joint Clients and Prospects", Lexington, KY (February 2010)
Estate Planning and the Family Farm – Kentucky Cattleman's Association Annual Convention, Lexington, KY (January 2010)
Conversions of Traditional IRAs to Roth IRAs with Wells Fargo, Lexington, KY (December 2009)
Estate Planning for Families with a Special Needs Child – Prader Willi Syndrome Association – Tennessee Chapter, Nashville, TN (November 2009)
Estate Planning for Families with a Special Needs Child with Morgan Stanley/Smith Barney (October 2009)